Welcome to Blizzard Pack Reborn,
BPR is a beginner - advanced semi-realistic wolf roleplay where the main rules is respect and loyalty. This site maintains stress and drama free roleplaying throughout the day. Anyone is welcome to join and if help is wanted it is quickly given by the helpful staff. Blizzard Pack Reborn is located in the depths of Alaska where humans are rarely found. There is no set plot, but everyone can make up their own for their characters if they wish.
The community here is always friendly and fun so don't be shy to PM anyone are jump into a rp thread. The site was meant to be used for fun, so come and enjoy yourself!
May 2019
| Mon | Tue | Wed | Thu | Fri | Sat | Sun |
| --- | --- | --- | --- | --- | --- | --- |
| | | 1 | 2 | 3 | 4 | 5 |
| 6 | 7 | 8 | 9 | 10 | 11 | 12 |
| 13 | 14 | 15 | 16 | 17 | 18 | 19 |
| 20 | 21 | 22 | 23 | 24 | 25 | 26 |
| 27 | 28 | 29 | 30 | 31 | | |
Calendar

Weather
Sunny
The blizzard has subsided and there is a thick layer of snow covering the ground. However the sun in shining brightly and there seems to be no clouds in the sky. Perfect time for sun bathing.
Current Temperature: 75
Season: Winter
Mating? Yes
Birthing? No

Name: Night
Gender: Male
Age: 24moons
Rank: Beta Male
Personality: Night's personality kind of reminds you like the president. On the outside, he is strong, a great leader, always confident. He walks like he is a soldier riding a horse proudly and talks like he is a professional speech-giver. His voice and heart are strong, and he is very smart and wise. He is who you want to go to for advice on pretty much anything. On the inside, he is a dark, deep hole that is endless. He is very negative, though he always acts positive. He hates life, even though he is perfectly good at handling it. He isn't sure why he's like this, he just is. He never shows his real feelings to anyone, eccept if he falls in love with someone. He is totally and completely open to a mate of his, whenever he may get one. Besides his hidden and secret hatered for life, he is a well-thought-out character that is easy to fall in love with and be friends with.
Appearance: Like most male wolves, he is larger than the females. He is so large that he sometimes even stands taller than other males. His fur is long and dark black, with a few flecks of white in places like his underbelly, muzzle, and paws. His eyes shine a bright, but dark, blue color and they shine in both sunlight and moonlight. Some may think it's girly, but females find this very attractive. He is big boned and build to be a strong fighter.
Current Replationship: None yet.
Current Crush; None
Packs: Blizzard Pack
Offspring: None, yet.
Siblings: None.
History: He was born in the Blizzard Pack, and grew up there. His parents, Fern and Montain, died when he was young from a horrble sickness that spread through the pack at that time. He spent most of his life training to et stronger and be skilled, and also learning many things and gaining knowledge. He has pretty much had a nromal life.



Posts

: 5


Join date

: 2012-12-15



:O He's adorable, I like the personality and appearance part

__________________________________________________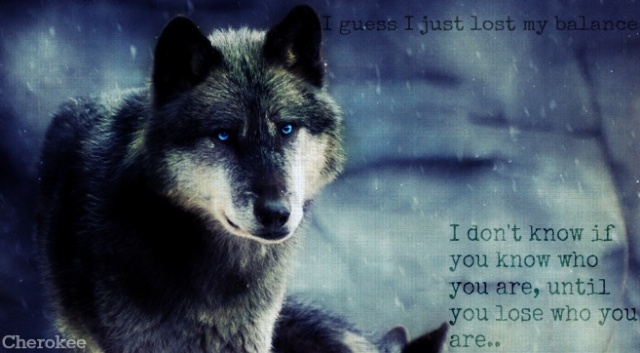 Posts

: 71


Join date

: 2012-12-03


Age

: 20


Location

: Traveling through the forest



Love the picture Kelly ^^ Looks great so far ^^
__________________________________________________
Admin




Posts

: 147


Join date

: 2012-11-30


Age

: 21


Location

: Sitting by a river





Similar topics
---
Permissions in this forum:
You
cannot
reply to topics in this forum